UNITED STATES INVOLVEMENT IN THE SYRIA WAR
The US warned the UN of possible unilateral Syria moves if the UN fails to respond to last week's chemical attack on a rebel-held town in Syria that killed more than 80 people.
"When the United Nations consistently fails in its duty to act collectively, there are times in the life of states that we are compelled to take our own action," US Ambassador to the UN Nikki Haley said on Wednesday. The warning came during an emergency meeting of the UN Security Council called by France and Britain after an early morning attack on Tuesday in Khan Sheikhoun in Idlib province.
Trump also told told some members of Congress that he recognized the seriousness of the situation and has not firmly decided to go ahead with it but said he was discussing possible actions with Defense Secretary James Mattis.
On Thursday, Trump turned that warning into a unilateral attack on Syria.
While the mess in Syria continues to escalate, North Korea may be next on Trump's agenda.
On the heels of yet another North Korean missile test, albeit one the Pentagon says failed, and ahead of a meeting between President Donald Trump and his Chinese counterpart, Trump's first choice for Secretary of Defense told Fox News the U.S. is right to consider first-strike military action against Pyongyang. "We're rapidly and dangerously heading towards the reality that the military option is the only one left when it comes to getting North Korea to denuclearize and not weaponized [intercontinental ballistic missiles]," said retired four-star Gen. Jack Keane. Keane said going to war is undesirable to the Trump administration because of the toll it would take on human lives.
The US military is spreading thin in the Middle East, and yet, the Trump administration is thinking about taking on North Korea. Can no one see the danger?
Trump is turning out to be just like Cyrus of Persia – a man of war!
ISRAEL
Egyptian President Abdel-Fattah el-Sissi and Jordan's King Abdullah II will reportedly present US President Donald Trump with a framework to an Israeli-Palestinian peace deal during their visits to the White House this week. Based on a two-state solution, the framework aims to establish a basis for fresh peace talks between the Israeli government and the Palestinian Authority, according to Israel Radio citing a Gulf media outlet on Monday. According to the report, the initiative would start with a series of gestures, including a long-delayed release of Palestinian prisoners and a complete stop to all Israeli settlement building in the West Bank. The Dubai-based al-Khaleej Times said Trump would respond to the Jordanian-Egyptian initiative during his meeting with PA President Mahmoud Abbas tentatively scheduled for later this month in Washington.
ISLAM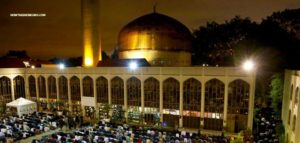 "London is more Islamic than many Muslim countries put together," says London Islamic preacher Maulana Syed Raza Rizvi.
The city of London – dubbed "Londonistan" by outspoken journalist Melanie Phillips – now has 423 new mosques, which are "built on the sad ruins of English Christianity." So writes Italian journalist and writer, Arutz Sheva columniist Giulio Meotti in an article written for Gatestone Institute reported here.
The Hyatt United Church, for instance, on Hamilton Road, was purchased by the Egyptian community and is being converted into a mosque. St Peter's Church is now the Madina Mosque, and the Brick Lane Mosque used to be a Methodist church. Not only buildings are converted, writes Meotti, but also people: "The number of converts to Islam [in London] has doubled; often they embrace radical Islam, as with Khalid Masood, the terrorist who struck Westminster."
"Given the current trends," he predicts, "Christianity in England is becoming a relic, while Islam will be the religion of the future."
Good bye, England, as you slip under the waves of Islam
"Terrorists can not stand London multiculturalism", London's mayor Sadiq Khan said after the recent deadly terror attack at Westminster. The opposite is true: British multiculturalists are feeding Islamic fundamentalism. Above all, Londonistan, with its new 423 mosques, is built on the sad ruins of English Christianity.
In Birmingham, the second-largest British city, where many jihadists live and orchestrate their attacks, an Islamic minaret dominates the sky. There are petitions to allow British mosques to call the Islamic faithful to prayer on loudspeakers three times a day. By 2020, estimates are that the number of Muslims attending prayers will reach at least 683,000, while the number of Christians attending weekly Mass will drop to 679,000
The Jewish Association in Umeå, Sweden, decided on Sunday to cease its activities and close its center in the wake of increasing Nazi threats. Recent days have seen the organization's premises vandalized with swastikas and threatening messages like "we know where you live." According to SVT News Västerbotten, the association's spokeswoman also received an intimidating visit to her own home.
"Too many things have happened lately which mean that Jewish parents don't feel safe having their kids at the schools," the spokeswoman, Carinne Sjöberg, told SVT. "Our children shouldn't need to live in a world where they have to be ashamed for what they are, but it's not possible to operate if people are scared."
ECONOMY
The Russian central bank opened its first overseas office in Beijing on March 14, marking a step forward in forging a Beijing-Moscow alliance to bypass the US dollar in the global monetary system, and to phase-in a gold-backed standard of trade.
According to the South China Morning Post the new office was part of agreements made between the two neighbours "to seek stronger economic ties" since the West brought in sanctions against Russia over the Ukraine crisis and the oil-price slump hit the Russian economy.
According to Dmitry Skobelkin, the deputy governor of the Central Bank of Russia, the opening of a Beijing representative office by the Central Bank of Russia was a "very timely" move to aid specific cooperation, including bond issuance, anti-money laundering and anti-terrorism measures between China and Russia.
BIOLOGICAL
Tuberculosis was recently found in a Harding County, S.D., beef herd after routine slaughter surveillance discovered cows with lesions. The herd has been under quarantine since the discovery and will be depopulated. A second adjacent herd has confirmed TB in one cow that was originally from the initial herd. Additional investigation into that herd is continuing.
South Dakota officials are trying to stop the spread of a strain of bovine tuberculosis discovered in a Harding County cattle herd.
It's the first case of bovine tuberculosis in the state in six years. So far 41 infected animals have been identified, the Capital Journal (http://bit.ly/2mSkbnI ) reported.
Thirteen neighboring ranches were quarantined, six of which have since been released. State agriculture officials said the remaining seven still have testing to complete.