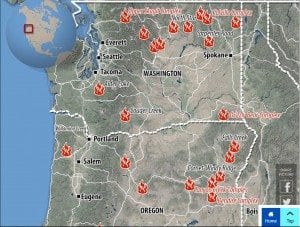 One cluster of wildfires has destroyed more than 400 square miles of land and an estimated 200 homes
Emergency responders have drafted in the National Guard, 4,000 volunteers and 70 Antipodean firefighters 
The blazes are breaking out in forests along the state's border with Canada and down into Oregon 
Fires are being started by lightning strikes that ignite the tinder-dry forests, quickly spreading on the wind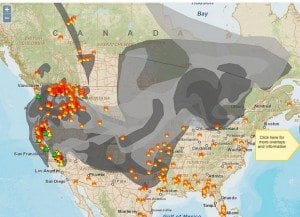 The wildfires spreading across Washington and Oregon are now officially the worst since records began – with firefighters having to be drafted in from Australia and New Zealand to fight the flames.
The biggest fire burning on Monday was in Okanogan County on the Canadian border, where a group of five fires raging out of control became the largest in state history, scorching more than 400 square miles, said fire spokesman Rick Isaacson.
Okanogan County Sheriff Frank Rogers said: 'I'd like to set some different records.'
The devastating lightning-sparked fires there have so far claimed the lives of three firefighters and destroyed some 200 homes.
Wildfires have broken out across the Pacific North West, with some 500,000 homes under threat.
Such is the extent of the problem, 4,000 volunteers have been drafted in to help the professionals in trying to control the infernos.
Members of the Washington National Guard have also been deployed – joined by 70 highly experienced firefighters from Australia and New Zealand, whose native wildfire season is six months away.
Two hundred US troops from a base in Tacoma are also helping out – the first such use of active-duty soldiers in nine years.
Jim Whittington, a Bureau of Land Management spokesman in Portland, Oregon, said military assets cannot be used against wildfires until all civilian resources are deployed.
Read more (Daily Mail)
What does it mean?  (Commentary from HN News editor)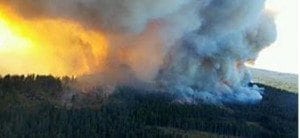 Is this Abba's way of "koshering" (or cleansing/purifying)  the land through fire? This nation has "innocent blood" spilled upon it through the millions of abortions committed against the unborn. Their blood cries out from under the altar of heaven.
Fires are spoken of throughout the book of Joel. The final great outpouring of the Holy Spirit, spoken of in Joel 2:28-32, this outpouring is associated with:
*blood and fire and pillars of smoke
*sun is darkened (we have a partial solar eclipse on Sept 13)
*moon is turned to blood (we have a final blood moon eclipse on Sept 28)
Are all of these signs lining up to show us that soon, very soon, the great outpouring will be happening this fall?
O Yahweh, to You I cry out;
For fire has devoured the open pastures,
And a flame has burned all the trees of the field.
he beasts of the field also cry out to You,
For the water brooks are dried up,
And fire has devoured the open pastures.  Joel 1: 19-20
And also on My menservants and on My maidservants
I will pour out My Spirit in those days.And I will show wonders in the heavens and in the earth:
Blood and fire and pillars of smoke.The sun shall be turned into darkness,
And the moon into blood,
BEFORE the coming of the great and awesome day of Yahweh.
Joel 2: 29-31