US Army Builds "Fake City" in Virginia to Practice Military Occupation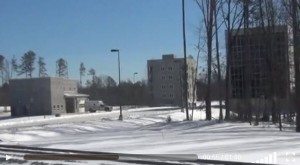 The U.S. Army has built a 300 acre 'fake city' complete with a sports stadium, bank, school, and an underground subway in order to train for unspecified future combat scenarios.
The recently opened site is located in Virginia and was built at a cost of $96 million dollars, taking just two years to complete.
While the city was ostensibly built to prepare U.S. troops for the occupation of cities abroad, some will undoubtedly fear that the real intention could be closer to home. Although the site includes a mosque, the town looks American in every other way, with signs in English.
The fact that, as the Telegraph reports, "The subway carriages even carry the same logo as the carriages in Washington DC," could suggest that the site was built to double both as a foreign city and a mock domestic town.
According to Colonel John P. Petkosek, "This is the place where we can be creative, where we can come up with solutions for problems that we don't even know we have yet….This is where we'll look at solutions for the future-material solutions and non-material solutions…anything from how you're going to operate in a subterranean environment to how you dismount a Humvee to avoid an IED strike."
The increasing demonization of domestic political groups as extremists has prompted numerous scenarios where commentators have suggested that U.S. Army and National Guard personnel could be needed to quell civil unrest.
In 2012, an academic study about the future use of the military as a peacekeeping force within the United States written by a retired Army Colonel depicted a shocking scenario in which the U.S. Army is used to restore order to a town that has been seized by Tea Party "insurrectionists".
Read more (InfoWars)