Outrageous Statement by Kerry: Warns of Third Intifada if Peace Talks Break Down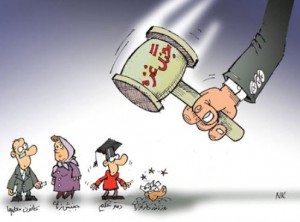 US Secretary of State John Kerry painted a very bleak picture of what would be the result of a break-down in the current Israeli-Palestinian talks, warning on Thursday of a third intifada and international isolation of Israel
Kerry's warnings came in an unusual joint interview with Channel 2's Udi Segal and Maher Shalabi of Palestine TV.
"The alternative to getting back to the talks is the potential of chaos," Kerry said. "Does Israel want a third intifada?"
The Secretary of State's warnings of a third intifada came two days after a poll conducted by the Arab World For Research & Development showed that only 29% of West Bank and Gaza Palestinians said they would support a third intifada, though 60% believe one is possible.
Kerry's dire warnings echoed comments he made in Jordan after meeting King Abdullah II, and before a second meeting in two days with Palestinian President Mahmoud Abbas.
In a signal that the three-month old talks were indeed in a troubled spot, Kerry extended his visit another day and is scheduled to meet with Prime Minister Binyamin Netanyahu on Friday morning, for the third time since Wednesday. A meeting the two held Wednesday evening, following Kerry's first meeting with Abbas, went on past midnight, Israeli officials said.
Read more (JPost)
What does it mean? Commentary from HN News editor      This is not even a veiled threat. It is an outrageous and outlandish "big bully" statement threat coming from Kerry. He seems to be acting as a mouthpiece for the Muslim Brotherhood, the Islamists, and the Palestinians. He is NOT a  fair, neutral party to broker a peace deal. He is CLEARLY on the side of the Palestinians. More verbal threats, strong arming and big bully tactics.
My hope and prayer today is that the Israelis would grab ahold of the spirit of young David when he came against the "big bully", Goliath. May they overcome any and all fear, and may they respond in GREAT COURAGE and BOLDNESs with the power and authority of Yahweh  our Elohim, the God of Abraham, Isaac and Jacob!