One Million Truckers to Protest Obama by Shutting America Down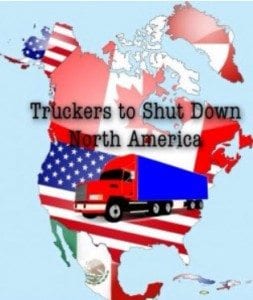 One week after nearly a million patriotic bikers converged on Washington, D.C. for the 12th anniversary of 9/11, a large group of truckers has announced its plans to halt commerce across the nation for three days next month. The strike is planned as a response to D.C. "corruption that is destroying America," according to the movement's Facebook page.
Organizers say that truckers taking part in the strike will not haul freight for three days, beginning Oct. 11. A social media campaign launched earlier this week has already garnered tens of thousands of supporters.
The event is set to include a convoy to the nation's capital, and early feedback shows that many drivers are eager to join the movement.
Photos of trucks and drivers planning to take part in the event are consistently being posted to the Facebook page, "Truckers to Shut Down America," and many who cannot join are pledging to keep their rigs parked during the strike.
If successful, the strike could result in significant gridlock – both on the streets of Washington, D.C. and between points of delivery throughout the nation.
Read more (Liberty Beacon)