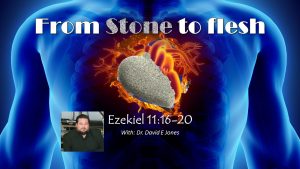 Hineni
Here Am I
A simple phrase, but with life changing implications. What could happen if we just simply came before the Father and said "Here Am I"? This week we look at the lives of others who have done this. We will also look at a few situations that give opportunity to this. Are we willing? Check it out.
Dr. David Jones is currently the Pastor of Ruach Ministries in Brandon, FL. He is an Author, Pastor, Teacher, Conference speaker, & has travelled internationally teaching the Hebrew Roots of our faith. He received his Doctorate in 2014 from Tabernacle Bible College & Seminary based in Brandon, FL. TBCS also has extension schools, students and graduates in 46 states across America and 50 foreign countries. 
Want more information on Ruach Ministries? Find us online!
website: www.RuachOnline.com
teachings: www.RuachMinistriesShop.com & www.messianicmarketplace.org
Facebook: www.facebook.com/RuachMinistries
Twitter: @RuachTweets
Vimeo: www.vimeo.com/Ruach
YouTube: www.youtube.com/theruachlife
Podcast: Play in new window | Download